We as adults, set the examples for the children at Park Lane Elementary.  Regardless of appointments or running late for work, it is important that we work together as a team, for the safety and well-being of theses amazing students, please adhere to the following:
Please be kind to our fifth graders on Safety Patrol. They are earnest and diligent in following the instructions and procedures we have given them. They are also kids!
Gates closed in the morning (M-F) – 8:10 – 8:30 AM 
Gates closed in the afternoon (M – Th) – 3:00 – 3:20 PM
On early dismissal days, gates closed – 1:20 – 1:40 PM
Only vehicles with registered office passes or district badges are allowed through the gates at these times. If you do have a pass, you will not be let out, and please patiently wait for the gates to open.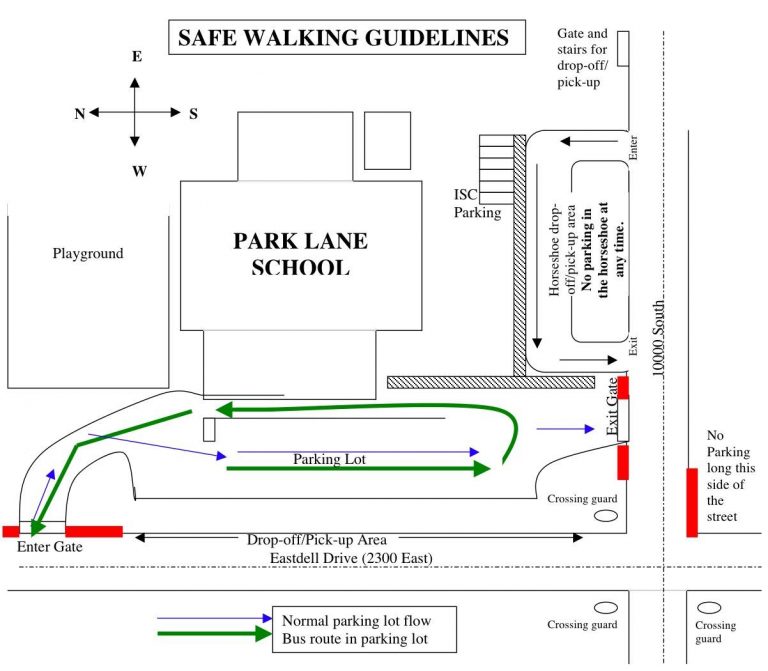 Sandy City Crossing Guards are at the school from 8:00 AM to 8:30 AM and from 3:00 PM to 3:25 PM, and 1:20 PM to 1:40 PM on short days.
The Horseshoe Drop-Off/Pick-Up Area (10000 South)
Make sure your child is prepared to exit your vehicle before you come to the horseshoe.

The lane closest to the school is for dropping off and picking up. Please pull into the horseshoe as far as possible.
The lane closest to the street is the drive-through lane.  Please do not stop in the drive-through lane.
Eastdell Drive (2300 East)

Drop off/pick-up your child along the sidewalk.
Have your child walk to Park Lane following the sidewalk. 
Do not allow your child to enter the school grounds by climbing the grass hill into the parking lot please!
Mind the Safety Patrol, as buses enter and exit through the North Gate.
Eastdell Church (9800 South 2300 East)
Drop-off/pick-up your child in the church parking lot.
Your child needs to stay on the sidewalk from the church parking lot, until they reach the school or their grade-level doors.
Scooters and Bikes
For safety reasons, we ask the students to get off their bikes and scooters when they enter school property.
There are bike racks on the south side of the school, by the Cell Tower Tree.
Each teacher has a placement for their student's scooters.